The Buchanan is now Quimby on 23rd
You're on the right (flight) path!
Put away your emergency landing gear - you've come to the right place! The Buchanan is now called Quimby on 23rd. This fresh, new identity compliments the extensive renovations and upgrades that have taken place at our community over the past few years - with more to come!

Contact us to learn more:
Why Quimby on 23rd?
Our community's new identity channels the spirit and legacy of America's first female certified aviator, Harriet Quimby, and the excitement of 23rd Street's Restaurant Row in our National Landing neighborhood, now taking off. As Quimby on 23rd, we're celebrating the velocity of a neighborhood gliding to new heights and paying homage to our incredible location mere moments from one of the nation's most iconic airports.
Who was Harriet?
Harriet Quimby passed her pilot's license test on August 1st, 1911, making her the first licensed female pilot in the United States. Within a year, she became the first woman to fly across the English Channel. She designed her own plumb-colored, satin flying suit that was rumored to make her green eyes sparkle. Both the plumb and green colors are reflected in Quimby on 23rd's fresh, new branding.
What else is new?
Our community refresh goes beyond just a logo and color palette. We've renovated many of our spaces, including a luxe new lobby with co-working areas, new contemporary finishes in many of our apartment homes, and upgraded to fully modernized, high-speed elevators with custom artwork. Outside of our community, the vibrant streetscapes of National Landing have also taken off, with incredible new hot spots around town like the newly re-opened Water Park and Met Park, plus AmazonFresh, Alamo Cinema & DraftHouse, Long Bridge Park Aquatics & Fitness Center, and more!
YOUR HORIZON EXPANDS HERE
Newly Renovated Homes
Pick from our many apartment styles and floorplans, from studios to 3-bedrooms with a vast array of features and finishes.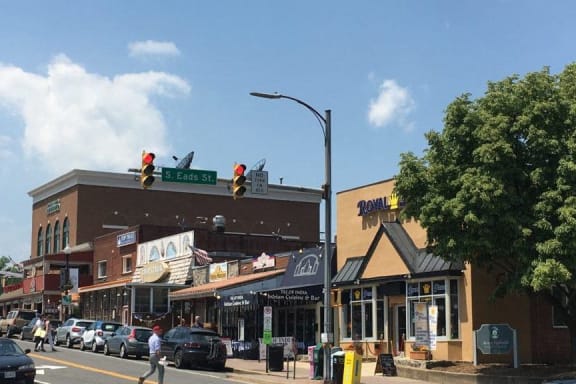 THE QUINTESSENTIAL CONNECTOR
Discover 23rd Street
Our prime location connects you to both 23rd Street's Restaurant Row and the vibrant Crystal Drive, with new and exciting retailers and restaurants like Water Park!
LIFE WITH WIND AT YOUR BACK
Travel Made Easy
Whether you're commuting or flying across the English Channel, take off is a breeze with our incredible location next to the Metro, VRE, and Reagan National Airport.